GREENS FIRST FEMALE MENOPAUSE FORMULA -
IT'S TIME TO CONTROL THE HOT FLASHES AND HORMONAL ISSUES!
If you're searching for
menopause hot flashes natural treatment
, you've landed on the right web page. With
Greens First Female Menopause Formula
you'll nourish, rebalance and rejuvenate your body and your health with a daily serving of this great tasting powder formula.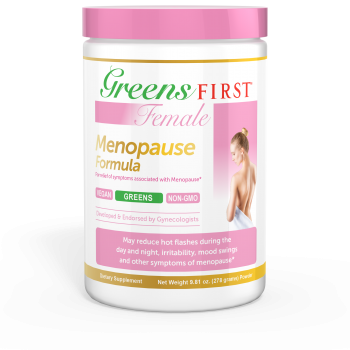 Female Menopause Formula Contains
15+ servings of fruits and vegetables enhanced with ingredients that may help to relief symptoms associated with all stages of menopause.

Nutrient-rich, phyto-nutrient and antioxidant super foods

With additional key ingredients that target natural help for menopause symptoms
Plus, Greens First Female Menopause Formula has:
NO GMO ingredients
NO Sugar added
NO Aspartame
NO Dairy
NO Whey
Adding Greens First Female Menopause Formula to your diet may help to:
Reduce the frequency and intensity of hot flashes during the day and night
Reduce irritability
Reduce mood swings
Support healthy hormonal balance
Improve sleep disturbances and desire
Assist in controlling menopause-related weight gain
Help to keep bones dense, healthy and strong
Alkalize and balance your body's pH levels
Reduce inflammation and promote healing
Relieve achy joints
Increase energy levels without stimulants
Boost the immune system and improve digestion
Balance healthy blood sugar levels
Promote mental and cognitive acuity
Maximize your health and improve overall well-being
30 servings per container

With Greens First Female Menopause Formula you can take charge of your menopause symptoms naturally without prescription drugs!
100% natural - contains certified organic fruits and veggies
100% non-hormonal. No estrogenic effect.
No artificial colors or flavors
Non GMO
Sweetened with stevia
Vegetarian and vegan
Easy to digest
No nano particles
No MSG or yeast
No corn, rye, wheat, or nuts
No dairy, eggs or animal by-products
No artificial ingredients, sweeteners or preservatives
Rich in alkaline nutrients to balance our body's pH levels
SOMETHING UNEXPECTED: IT TASTES GREAT!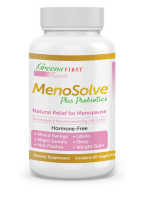 Directions for use:
At the start of each day, add one level scoop of product into 6-8 oz. of COLD water. Shake in a closed container and enjoy. The benefits of Greens First Menopause Formula increase with use over time, for best results, take daily.
Recommended:
Refrigerate after opening. Allergy Warning: Contains bee product (Royal Jelly), avoid if allergic to bees or bee products.
Ingredients:
Vitamin C, Niacin, Pantothenic Acid, Calcium, Iron, Chromium Picolinate, Sodium, Organic Barley Grass Powder, Oat Bran Powder, Organic Carrot Root Powder, Organic Broccoli Plant Powder, Organic Cauliflower Bulb Powder, Organic Spinach Leaf Powder, Organic Parsley Leaf Powder, Organic Collard Leaf Powder, Sunflower Lecithin, Chlorella Powder, Organic Spirulina Powder, Decaffeinated Green Tea Leaf Extract, Plum Fruit Powder, Grape Seed Extract, Tart Cherry Fruit Powder, Broccoli Stem and Floret Powder, Tomato Fruit Powder, Spinach Leaf Powder, Collard (Kale) Leaf Powder, Masson Pine Bark Extract, Brussels Sprout Head Powder, Cranberry Fruit Powder, Raspberry Fruit Powder, Blueberry Fruit Powder, Graminix G60 (Flower Pollen Extract), Apple Pectin Fiber Powder, Moringa Leaf Powder, Rice Bran Powder, Probiotic Blend Complex, Organic Sprouted Barley Malt Powder, Bromelain, Papain, Protease, Amylase, Lipase, Cellulase, Lactase, Stevia Leaf Extract, Quercetin Dihydrate, Milk Thistle Seed Extract, Daidzein Root Powder, Organic Beet Root Powder, Organic Cassia (Cinnamon) Bark Powder, Organic Aloe Vera Leaf Powder, Cnidium Monnieri Herb Powder Resveratrol, Organic Acerola Fruit Powder, Concord Grape Fruit Powder, Tumeric Root Extract, Guggul Oleo-Gum-Resin Powder, Organic Kelp Powder, Royal Jelly Powder, Cayenne Pepper Fruit Powder, Licorice Root Extract, Orange Fruit Powder, Natural Spearmint Flavor, Citric Acid
Greens First Female Menopause Formulas has been enhanced with superior ingredients shown in studies to help support the symptoms of menopause

Graminex G60 (Flower Pollen Extract)
Weight management support
Dramatic reduction of hot flashes
Reduction in the frequency and intensity of night sweats
Decrease in fatigue and irritability

Moringa
Contains Vitamin D and Calcium which may strengthen bones and help with osteoporosis prevention
Regulate mood swings
Reduction of fatigue
Boosts libido

Daidzein
Reduction of hot flashes

Cnidium Monnieri
Boosts libido

Vitamin B3 (Niacin)
Reduces frequency and intensity of hot flashes during day and night
Soothes menopausal stress

Royal Jelly
Reduction of hot flashes
Reduction of fatigue
May strengthen bones

Guggul Gum
May help balance out levels of hormones in the body
Reduction of hot flashes

Chromium Picolinate
Monitors blood sugar
Aids metabolism
Reduces food cravings
Regulates fat and cholesterol
Prevents hypertension

Pantothenic Acid
Reduction of acne breakouts
Maintain emotional balance
Reduction of physical discomfort caused by estrogen deficiency



Make Greens First Female Menopause your choice for natural remedies for menopause hot flashes and other symptoms.
Greens First Menopause Formula, 9.81 oz powder - $47.00
Greens First Menopause (MenoSolve), 60 vegetarian caps - $35.00